Friday, November 30, 2007
Mystery Diagnosis
The Scrubs cast facilitates the treatment - a dose of diamonds to start on the path to cure, involving lifelong hitchery.
I know at least one case, after so many years of management, where the cure has caused more chronic happiness and smiling than the disease. I guess I could try leeches.
via
neatorama
Wednesday, November 28, 2007
The Deciders New York Times reports on the suicide of Megan Meier. To the credit of the reporter, there is no fainting about naming the Drews.

Tuesday, November 27, 2007
Don't look at me like that.
I did, after all, buy the book.
Tuesday, November 20, 2007
A full copy of the police report screencap (shown in a post below) that names Lori Drew, and contains an narrative of her statements.

She is apparently aggrieved that her neighbors are "hostile" and wishes to gain a hearing and/or absolution from the Meiers. She tried three times. On the Thanksgiving weekend just following Megans death. By banging on the door.
After being asked to leave. So she called the police. Lori did.

Deciding - you mean ordinary people do that?
It's near fiction that by calling Lori Drew by name, I exposed her to the contempt of the world. That her name was ever really concealed or concealable, once the first story about this emerged, and so many clues given, is perhaps a comforting fiction for those of use who live in the modern world, but it is pure pretense. It was readily available to anyone who wanted it ; it would take a few minutes at most for a modestly skilled searcher with the clues given in the original article to find it (and have a high degree of confidence in it.) It took me a little more. Others found it without my instruction. All that remained was for someone to be sure enough Lori Drew was not just someone listed as owner of her house, but the actual subject of the story published. I made sure.
"Give it a rest"
Already the contempt of her neighborhood, the enormity of her action seems thus far to have escaped her. The Trojan boy was a personification of treachery, to be sure, but Drew's own actions after Megan's suicide, as in described the story picked up by local reporter
Steve Pokin
, combined with the seeming lack of remedy from any kind of court (in fact, the perverse use of the courts to punish her victims), seems to be responsible for turning shock and disgust, into shock and disgust requiring relief, action, a *public* demand for justice.
I know what made me reconsider my delay in, and reluctance to, give her name, though I was certain of it.
"But what good would naming her do? Wouldn't her neighbors already know well enough what happened?" I had my share of misgivings. Did she deserve scorn, or shunning, or loss of reputation, or renewed legal pressures? Well, yes. Yes she did.
Would naming her interfere with or impede that outcome ? Well, no; and in fact it would put pressure on the Drews to do what they might have done and should have done, just to ease the pain and anger of their neighbors (quit the neighborhood, ask for charges to be dropped or nolle prossed, stop blaming the Meiers, stop demanding the Meiers forgive or understand or give her a hearing so that neighbors will like them again; stop defying the hostile reactions of all with casual snark.) It would put pressure on prosecutors to treat the "lawn" case with a little more disdain. To look a little harder at what criminal remedy might be pursued against the Drews. It could help make law firms reconsider whether a civil lawsuit might have enough merit to prevail; and for the Meier's, have enough public impact to make a difference for the good.
What would it unleash, if I put her name where the people I wanted to find it first would find it, especially should they
enter her actual name
- People who were already looking for Lori Drew, specifically. What was already coming, that is, only perhaps a day or two sooner.
Why do it at all? A non-exhaustive list would include a combination of certainty in ID, and a court date for Ronald Meier just a few days away on the docket in the Missouri courts. The recount of the police report narrative, in which she dragged the matter into the public sphere, and which contained self-worded admissions and descriptions of her conduct.
And guess what? Outrage. I feel what she did was outrageous, and her actions have only compounded the original injury. She should face, if not a court action, something called disgrace. Which you earn your way out of. Let her defend herself, or show in a public way she understands how wrong she was, and start by easing what victims of her light entertainments (including her neighbors) endure, and try a fresh start where they don't have to look at her every day and remember how she yanked around a vulnerable little kid she meant to fool and knew she would hurt.
I published her correct name, and a screencap from CNN. Outrage?
Aged Space Cheddar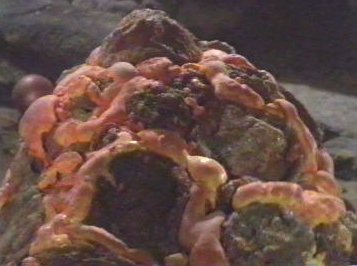 Kept in a cool place: Wired's list of top 10 cheesiest Star Trek classic creatures.




What, no Paige Davis?



Via Neatorama
Monday, November 19, 2007
Hot Potato, Hot donuts
It's 4 in the morning, I don't know why I'm up.
A couple of words for the random curiosity seeker. This blog has been in hiatus for some time.
Although this blog got more than its shot, back in its day, I figured out I really enjoy reading blogs more than keeping one, and it sputtered and fizzled straightaway, and that's how I like it. But I keep a grabby wrist at the ready to emerge from its grave - when it's least expected, Carrie-style.
As the motto in the heading of Bluemerle suggests, I prefer to be obscure but discoverable. I let it lurk, little monster in the deep, like a seabeast dangling unlit bait, until such time it flashes on the hot-donut sign and draws the little fishes into it's fangtooth maw. For a purpose. Or a service, Now and then.
No one comes here, the commenters here cannot be mine, they are no audience, a very few are here to talk to me. All it was, was a hot donut sign, for the donut seekers.
Why I or anyone would go looking for Drew's identity is no mystery. Why the O'Fallon journal chose to conceal it, and yet provide so much identifying detail, is. It was curiosity and disbelief that led me to search, at first. at first... I read it and WTF'd about it at
Ace of Spades
blog last week. The story seemed like an urban legend. I wanted to make sure it was for real myself, quickly locating Megan's obituary, checking records, contacting someone who could know something. What does one do with certainty? It's one thing to suspect, its another to know. It boiled down to
this
: I knew Ronald Meier was due in court in scant days on the "you drove on my lawn" charge. I wanted her to crawl on her knees and beg the prosecutor to nolle pros the case, and bring maximum pressure on her to mitigate further harm to the MEIERS.
Anyway, I've learned even a tiny blink and wink in the right code in the deep dark tube will be picked up by the searchers - that was my aim, the post title crafted with terms I would have used myself to search. You're Welcome.
Now, back to slumber
Update: 11/20/07 correction to " Ronald Meier was due in court".
Labels: bloggers out, Carrie's arm, Lori Drew, Megan Meier
Saturday, November 17, 2007
Updated
I did not attempt any sophisticated sharpening of the image, though I did some very minimal unsharp mask/luminosity adjustments.
The capture is otherwise unaltered and available for viewing at CNN.com within a video segment on the Drew Hoax, including an interview with Megan Meier's parents.
Watch it
here.
I'll be back to transcribe what's on the page, but wanted to slap that right up top for you to see.
Update: A quick transcript (of the above report as shown on CNN 360.):
-------------------------------------------
[Top folded (a pparently to conceal information)]
[partial view of "251 Waterford Crystal Ln ( tops of letter forms missing]
[Two phone numbers]
In reference to their daughter's suicide, Drew explained she wanted to "just tell them" what she did to contribute to the Meier's daughter's suicide. She instigated and monitored a "my space" account(<---blurred) which was created for the sole purpose of communicating with Meier's daughter. Drew said she, with the help of temporary empoyee named "Ashley", constructed a profile of "good looking" male on "my space" in order to "find out what Megan (Meier's daughter) was saying on-line" about her daughter. Drew explained the communication between the fake male profile was [?aimed? illeg] at gaining Megan's confidence and finding out what Megan felt about her daughter and other people. Drew stated she, her daughter, and Ashley all typed, read, and monitored the communication between the fake male profile and Megan. Drew went on to say, the communication became "sexual for a thirteen year old." Drew stated she continued the fake male profile despite this development.
According to Drew "somehow" other "my space" users were able to access the fake male profile and Megan found out she had been duped. Drew stated she knew "arguments" had broken out between Megan and others on "my space". Drew felt this incident contributed to Megan's suicide, but she did not feel "as guilty" because at the funeral because she found out "Megan had tried to commit suicide before."
Drew explained the neighborhood had recently found out her involvement in Megan's suicide and her neighbord have become hostile to toward her and her family. Despite the recency of the suicide and several neighbors recommending she not confront the Meier family (especially on Thanksgiving), Meier stated she and her husband attempted to contact the Meier family three times, "banging on the door" although Mr Meier had already told them to leave.
[Reporting officer name typed below - need to enlarge/sharpen]
[end transcription]
-----------------------------
Wow, is she not a piece of work. Her remarks are remarkably self serving. Obviously they are displayed here not for the truth of the matter asserted, but what she had to say about it. And this is her side. This is as good as it gets.
__________
UPDATE:
Thanks to commenter JuJubee who writes to inform the full version of the police report screencapped above is up at
The Smoking Gun
---->
Link
Labels: Anderson Cooper, CNN, Lori Drew, Megan Meier, Police report, transcript
Pay a visit, my regular weekend post is up, and a round-up of the usual suspects
Delights and the unexpected!
Friday, November 16, 2007
Warhammer/Holiday Baking
Boing Boing links to the
greatest Warhammer set
I've ever seen. And I have seen a-plenty related to my son's pricey obsession with space marines and Orcy things that I just don't understand.
All I am thinking is - What a great idea for a Gingerbread house! I need to get right on that.
Behold - Apocalyptic Manhattan: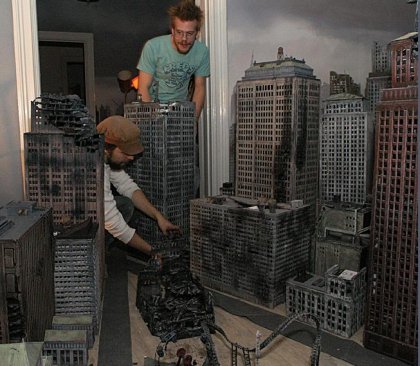 Labels: Boing Boing, Molasses, Mom's just don't understand
Thursday, November 15, 2007
In a Civil Manner
However you may feel Lori Drew has sown the wind, and must reap the whirlwind, restrain yourselves from illegal harrassment of all forms, please.
I thought it incumbent upon me to mention the obvious.

It occurred to me that tort reform efforts of 20+ years duration have been rather effective. Ask a person if they intend to sue, and they are almost offended, as if to do so would be a sign of low moral character or vulgar wish for enrichment from tragedy.
People who attempt to get their medical bills paid or their salaries restored or their pain and suffering recompensed or their loss of love and companionship of a spouse or child are disparaged as villains - fat fakers in search of a lottery win.

The Meiers seemed to feel that acts of vandalism or harassment they perpetrated may not have been "right", but natural, if regrettable...but they won't resort to the civil courts for punishment. And the subtext to that choice seems to me to be "Well, that would just be extreme or excessive" - as if a formal outing, rebuke and penalty by society is not only grasping for blood-money but some sort of savagery to which decent people won't resort. Unlike the torches and pitchforks and nose-punches I have seen advocated elsewhere.

Curious, that is.

Tuesday, November 13, 2007
May come back to haunt you, Lori Drew.
"Everybody in O'Fallon knows how you are. You are a bad person and everybody hates you. Have a shitty rest of your life. The world would be a better place without you"
I fretted about whether to name you. I'm tired of waiting for someone else to out you.
I hear God forgives those who repent. Maybe some of your neighbors will, too. But stay as you are, and I think those words from your "Josh Evans" sockpuppet may stay with you longer than you had thought possible.
I don't know what the future holds, but I hope you can find some way to atone for the pain you brought to the lives of so many.
*******
UPDATE UPDATE
UPDATED 11-17-05 :
CNN "360" screen capture -
Police report names Drew
. Link to CNN 360 video at new post.
Udpated 11-17-05, 12:54pm:
Police report naming Drew, containing an account of her statement to police, transcribed by me
above.
Labels: dardennes prairie, Josh Evans, Lori j. Drew, Megan Meier