Friday, August 25, 2006
Muse = Gwen Stefani plus some red licorice or something

This is really freaky, man.
A 120% pitch shift of Muse's rendition of "invincible" produces not the Chipmunk's Christmas Album, as is usually the case, but is alchemically tranferred from base metal to pure golden-haired red-lipsticked Gwen Stefani.

I don't know what's real anymore.

Pancakes!

Technically I think those are crepes. Delicious, pixillated crepes. The part at the end is a reasonable facsimile of a pancake breakfast at my house.


Venn Life hands you lemons
Make
Venn
diagrams of lemons.
DON'T PANIC
Is it my thyroid or is it my life?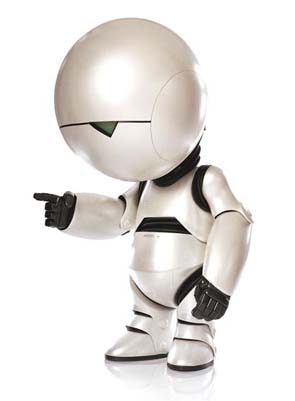 I think you should know I'm feeling very depressed.
At least I'm quite conscious of my lassitude and abnormal negativity. Retention of insight has got to be some kind of good sign. Doesn't it?
Part of it is my appearance. I was looking very cute for my old age, slender and lithsome with lots of blond hair. I was pleased with being slimmer than usual, but now I seem to be treading into bag of antlers territory. I felt young and bouncy, now I just feel pointy and droopy. My hair is full and wavy enough that it doesn't show too badly, but I am losing lots of my long blonde locks. A sweep of my hand used to push it out of my face. Now it means I have to get rid off the several strands that come away. It's horrifying, actually.
Ther's not supposed to be anything wrong with my thyroid function, but it's suspect number one as far as I can see for my tumbling weight and tresses.
Or not. But the thyroid nodule is making it's presence known. I woke up whispering. I choked on my coffee. Surgery may be delayed, but I don't think I'm getting out of it.
I do feel rather low. Plus my arthritis seems to be lurking around the bend, and ready to get me in the noggin with the lead pipe. Heel twinge, unusual back pain in the dead center of my back, the odd quirky cell floating around my iris as possible harbinger of six week of inflammatory
hell of semi-blindness. I'm about due for a bout of
uveitis
, having never managed to go a full two years between flares.
This guy
(on f*n fire, baby) called me funny once.
It's been a hell of a while since I was. Say, maybe the damn nodule is pressing on my carotid. Mybe surgery isn't all bad. Maybe my brain has some blood to look forward to, and I can crack wise again. And have boobs.
I got very bored and depressed, so I went and plugged myself in to its external computer feed. I talked to the computer at great length and explained my view of the Universe to it,'' said Marvin.
''And what happened?'' pressed Ford.
''It committed suicide,'' said Marvin and stalked off back to the Heart of Gold.

Hey, but the robot lived. :)
Friday, August 18, 2006
Actual Dancing Things Friday!
B3ta regular C_kick's
record store cats
have gone viral! I wish for synching software...but this youtube link is pretty fun...
Record Store Cats!!!
Officially uncool movie restored to post-postmodern coolness,
as only Dorkafork can manage:
INDCJournal: "Snakes on a Plane: The MuthaF*&$in' Review
After a nice bath and massage, and poise lesson, your toddler can enjoy a tuck-in and read-to of
this classic
from John Karr's bedtime story list:
if you prefer an anitmated musical interlude for relaxation, try this
HE-man Rhapsody
Canadians
would rather do their own babysitting...
Thursday, August 17, 2006
Really Freaky, Man
Amazing psychic powers? We report, you decide.

"psychic" sketch of Jon benet Ramsey's killer, L
John Karr, suspect in Jonbenet Ramsey Killing, R
The Book of JB Ramsey
Please excuse the lameness and scarcity of Bluemerle lately. I have a nasty bit of business going on with my thyroid, my ill mother, and stuff like banging my perfectly good arm into the door jam and busting up tendons so that I can't even enjoy the fact that I have delayed disfiguring surgery another month. I always seem to get a broken bone or mashed finger or bit lip the instant I start to feel like life is not only livable, but conquerable. I suppose those things are small potatoes amongst life's tuber bin of troubles, but it does seem to me that if God gets wind of me doing well, he is going to have to take pains to settle my hash.
What is it about God. To paraphrase Bertie Wooster - when a man feels particularly braced with things in general, the Lord comes up behind him and hits him with a bit of lead piping.
Everything was going great guns for the Ramsey family in 1996; when they not only lost a precious child, but were flatly accused of depending on an assortment of theories put forward by police, prosecutors, pundits and the public, of committing and/or covering up the murder.
Patsy Ramsey was still widely believed to have had "something" to do with her daughter's murder at the time of her own death this past June, more than ten years after her child was garotted by a sexual sadist in a basement closet of the Ramsey home.
Now, however,
John Karr
has added the murder of Jon Benet Ramsey to his
resume
; some folks accuse him of puffing -- believing he has stlen the honor from someone else, namely Jon-Benet's late mother -- but detectives in Boulder seem to have checked his references and found him a suitable candidate.
There are unconfirmed rumors of a DNA match; though John Karr is clearly a dangerous pedophile, it will take nothing less convincing that this to settle the matter for many people, pwoplw who had already formed conclusions that Patsy had been angry enough at her daughter for bedwetting that she mortally wounded her and covered up her crime by making it look like a kidnapping gone wrong...or that son Burke had gotten rough with her and his horrified partents had hidden the true cause of Jonbenet's death to protect him.
I should probably be ashamed to admit it, but I was very, very interested in the case . I participated in loopy usenet discussions, paid attention to every bit of circumstance or evidence that might shed light on whodunit, and watched endless repetitive broadcasts about JBR on 24 hour news networks.
From the beginning, I not only never discounted an intruder...the more that became known, the more I thought it possible or even likely an intruder had killed her, and the more I became absolutely horrified at people for being so relentlessly stupid about the case, willing to make circular, wild and completely unsupportable conclusions based on twisted or unreliable information, and their own narrow scope of understanding.
And to them, it didn't matter if the facts turned out to differ from their understanding of them....because they
knew
Patsy did it. The evidence might be fake, but even the fake stuff should be used, because it was accurate, and anything that bolstered their view and could be used to convince others had value in spite of its intrinsic bogus-osity.
Ten years ahead of my time is the joke around my house.
Well, HA. How's a bit of Cassandra triumphalism?
I would just like to say to usenet ca. 1997-1998, I told you freaking so.